My Blog
Posts for tag: dental implants
By J. Michael Plyler, DDS, PA
March 08, 2018
Are you considering dental implants for your missing teeth? Dental implants are usually the treatment of choice for missing teeth. Dental
implants are titanium posts that are inserted into the jawbone. J. Michael Plyler is one of the finest dentists in Hot Springs, AR. He offers state-of-the-art dental implants to his patients. Here are the top five reasons to consider dental implants.
1. Enhance Your Smile
Tooth loss can ruin a perfect smile. Dental implants will help you leave behind the discomfort or embarrassment of missing teeth. Dental implants can restore your smile, make you look years younger, and improve your self-esteem. Dental implants are the next best thing to healthy, permanent teeth.
2. Easier Eating
Most people take their teeth for granted — until something goes wrong. Our teeth help us cut, chew and break down foods for proper digestion. The absence of one or more teeth can affect your ability to eat certain foods. Implants will improve your ability to chew food. With dental implants, you will be able to eat all the foods you enjoy without pain and with confidence.
3. Stop Jawbone Loss
Jawbone loss is a common consequence of tooth loss and chronic periodontitis. Dental implants are the only tooth replacement option that stops jawbone loss and stimulate bone growth. Dental implants maintain proper chewing function and exert appropriate, natural forces on the bone to keep it healthy and functional.
4. Prevent Teeth Shifting
If a tooth is missing for a prolonged time, the surrounding teeth may shift and change the bite. Misaligned teeth could cost you a fortune down the road in orthodontic treatment. Dental implants can prevent your existing teeth from shifting out of place. Consult with a dentist in Hot Springs, AR, to find out if dental implants are right for you.
5. Improved Speech
Our teeth also play an important role in speech. One or more missing teeth can cause speech problems. Slurred or mumbled speech are big problems for people with missing teeth. Dental implants can improve your speech. Implants also allow people to speak without the worry that their denture might move out of place while eating or speaking.
Have a beautiful smile and enjoy good food again. Gain self-confidence and quality of life. Dental implants will do you and your smile a world of good. Call your dentist, J. Michael Plyler at (501) 623-7113 right now to schedule a dental consultation in Hot Springs, AR. We want all our patients to have strong, healthy smiles that look great, too.
By J. Michael Plyler, DDS, PA
January 02, 2018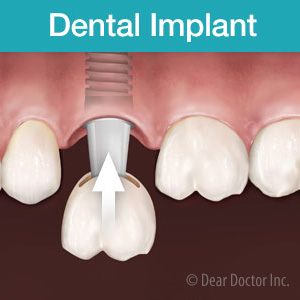 When it comes to replacing a missing tooth, you have several options, including a removable partial denture or a fixed bridge. But the premier choice is "the new kid on the block" at just over thirty years old: dental implants. Implants are by far the most popular tooth replacement choice among both patients and dentists.
But they also happen to be the most expensive option, at least initially. So the question is, why invest in dental implants over less costly choices?
Here are 3 reasons why implants could be well worth their price.
More Like a real tooth than other restorations. Implants can match the life-like appearance of any other replacement choice, often utilizing the same types of materials. But where they really excel is in function—how they perform while biting and chewing. This is because the dental implant's titanium post imbedded in the jawbone replaces the tooth root. No other dental restoration can do that—or perform better when comparing the resulting functionality.
Best long-term solution. As we mentioned before, the initial implant cost is typically higher than either dentures or bridges. But you should also consider their durability compared to other choices. It could be potentially much longer—possibly decades. This is because the titanium post creates an ultra-strong hold in the jawbone as bone cells naturally grow and adhere to this particular metal. The resulting hold can withstand the daily forces generated during eating and chewing. With proper care they might even last a lifetime, and actually cost you less in the long run over other choices.
Adaptable to other types of restoration. Implants have greater uses other than as individual tooth replacements. A few strategically placed implants can also be used to support removable dentures or a fixed bridge for multiple teeth or an entire dental arch. As the technology continues to advance, implants are helping to make other restoration options stronger, more stable and longer lasting—and adding more value to your investment.
If you would like more information on dental implants, please contact us or schedule an appointment for a consultation. You can also learn more about this topic by reading the Dear Doctor magazine article "Dental Implants 101."
By J. Michael Plyler, DDS, PA
April 28, 2017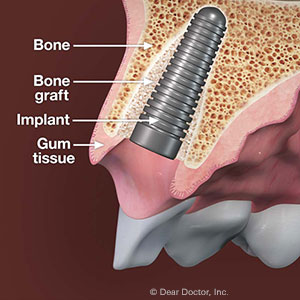 Dental implants are considered the best tooth replacement option available. An implant replaces the root of a tooth and allows for the replacement of the crown via attachments or abutments. They not only look like a real tooth, they function like one too.
Implants, though, for some are a significant investment and may be well beyond a person's financial means if they've experienced a sudden tooth loss. For that reason, many opt for a less expensive tooth replacement option like a removable partial denture.
Later when they can afford it, a person might consider an implant. But this could pose a complication. When a tooth is missing for some time, the underlying bone doesn't rejuvenate normally because it no longer receives stimulation from the tooth. Over time, the amount of bone may diminish. Restorations like dentures can't stop this bone loss and actually aggravates it.
For proper positioning, an implant requires a certain amount of bone volume. So, it's quite possible when the time comes to replace the old restoration with an implant that there may not be enough bone available.
We may be able to overcome this bone loss with bone grafting and regeneration. A specialist such as a periodontist or oral surgeon accesses the area surgically and inserts bone graft material, usually processed material that's completely safe. Properly placed, the bone graft serves as a scaffold that, along with growth stimulators, encourages bone cells to grow.
When the bone grafting has healed enough, we're then able to place the implant. Once imbedded in the bone, one of the implant's unique qualities comes into play. The imbedded post is made of the metal titanium, which is not only bio-compatible with body tissues, it also has an affinity with bone. Bone cells will easily grow and adhere to the implant surface. This further boosts bone growth in the area and strengthens the implant's hold.
These extra procedures to build back lost bone do add to the cost and time for installing an implant. But if you're ready for a more permanent restoration for a missing tooth — not to mention better bone health — the extra time and money will be well worth it.
If you would like more information on dental implants, please contact us or schedule an appointment for a consultation.