My Blog
Posts for tag: cosmetic dentistry
By J. Michael Plyler, DDS, PA
March 26, 2018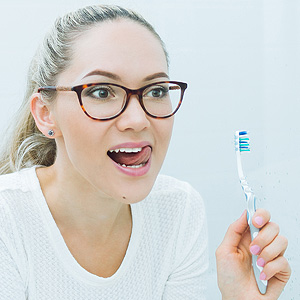 The arrival of spring often serves as inspiration to clean house and create an environment that's bright and fresh. Here at the dental office, we can do the same for your mouth as well! Having clean teeth, healthy gums and fresh breath helps you look and feel your best. Here are some ways we can help you freshen up your smile:
Dental Exam. The best place to start is with a dental exam. Finding and treating tooth decay in its earliest stages will help you avoid more costly and invasive dental treatments later on. It could even save a tooth that might otherwise be lost! Plus, oral cancer screenings are important for everyone—even young, non-smokers. Regular dental exams also give you a chance to bring up any issues you may be concerned about, and to ask for pointers on hygiene.
Professional Cleaning. Having a good oral hygiene routine at home goes a long way towards keeping your mouth healthy. But routine professional cleanings are still very important. Your dental hygienist uses specially designed tools to reach into places where your brush and floss can't, and remove disease-causing dental plaque and tartar. A polishing provides the finishing touch for a squeaky-clean feeling.
Teeth Whitening. Teeth tend to get duller with age; that's why teeth whitening treatments can give you a more youthful appearance. Bleaching your teeth is safest when supervised by a dental professional. We recommend two methods: either a professional treatment at the dental office, or a take-home kit we can provide, which includes custom-fitted bleaching trays. The first way will give you the fastest results, while the second is more economical.
Smile Makeover. Sometimes whitening alone is not enough to fix what's keeping you from flashing a big, bright smile. For example, maybe your teeth aren't straight, or they have been worn down over the years. Perhaps a tooth is chipped or is missing entirely. Or maybe there are multiple cosmetic issues. If this is the case, we can help you figure out what's really bothering you about your teeth and how you can achieve the smile of your dreams.
If you have questions about oral hygiene or cosmetic dentistry, please contact us or schedule a consultation. You can learn more by reading the Dear Doctor magazine article "Daily Oral Hygiene."
By J. Michael Plyler, DDS, PA
September 11, 2017
How teeth whitening treatment from your Hot Springs, Arkansas dentist can enhance your smile
If you want brighter teeth, you may have tried grocery store or shopping mall whitening products. You may have found that they don't whiten your teeth enough, and the results don't last very long. You may have also noticed your teeth are now sensitive. The truth is many over-the-counter products aren't very effective and can actually contain harsh chemicals which can make your teeth sensitive.
There's another way to achieve brighter teeth and a whiter smile. It's time for you to discover professional teeth whitening! Dr. J. Michael Plyler in Hot Springs, Arkansas wants to share how professional teeth whitening can enhance your smile.
There are many reasons why your smile may look dull, dingy, and yellow. Aging has a lot to do with why your smile is no longer vibrant. As you age, your tooth enamel becomes thinner and more transparent. The layer underneath enamel, called dentin, begins to show through, and dentin is yellow. The older you are, the more yellow your smile will look.
What you eat and drink plays a huge part too! If you drink coffee, red wine, or eat foods with dark pigments, your teeth will pick up stains. If you use tobacco products whether it's smoking or chewing tobacco, you will get dark brown stains.
You can get rid of all of those stains with professional teeth whitening. Dr. Plyler offers these effective options:
An in-office whitening treatment that takes about an hour; this treatment is perfect if you want brighter teeth in a hurry.
A take-home whitening kit; this treatment is perfect if you want to brighten your teeth discreetly and privately, whenever you want.
You can whiten your teeth up to 8 shades whiter with professional teeth whitening. The results are long-lasting too, even up to 5 years! Professional teeth whitening gives you brighter teeth and a whiter smile quickly.
For more information about professional teeth whitening and other cosmetic and restorative dental treatments, call Dr. Plyler in Hot Springs, Arkansas. Achieve your brighter, whiter smile by calling today!
By J. Michael Plyler, DDS, PA
July 17, 2017
Here are just some of the many ways you should rely on your dentist for care.
Since most people visit our Hot Springs, AR, dentist, Dr. J. Michael Plyler, regularly for checkups they often think that they know everything there is to know about what we do. Of course, dentists are there for so much more than just making sure your teeth are healthy every six months. Here are just some of the other ways that we can improve the aesthetics and function of your teeth.
Teeth Whitening
A white, radiant smile doesn't have to be out of reach. While those at-home whitening strips may not be giving you the results you want, this doesn't mean that whitening treatment just isn't enough for you. No other system is as effective at removing dental stains than the in-office whitening system our Hot Springs general dentist offers. Blast away stains and get teeth multiple shades whiter in just one session. You'll be amazed at how quickly you'll see results.
Root Canal Therapy
Dealing with a nagging toothache? If so, this definitely warrants an immediate trip to our office. While there are many reasons for a toothache, one of them could be that decay or an infection has spread into the inside of the tooth and affected the dental pulp.
Once this has happened the only option is to remove the pulp and clean out the tooth to prevent bacteria and other problems from spreading. If left untreated, the infection or decay may spread throughout the tooth and even into the bone. A root canal is designed to preserve the tooth and even prevent complications such as bone loss.
Dental Implants
Missing a permanent tooth can quickly affect your appearance and your self-esteem; fortunately, dental technology makes it possible to replace your missing teeth with a restoration that is designed to look and act just like a real tooth. It's truly the second best thing to natural teeth.
Implants work in much the same way as tooth roots, and they are placed into the jawbone where they bond with bone and tissue to become a permanent foundation. A single implant can support a dental crown (to replace one missing tooth) or multiple implants can be placed to support partial or complete dentures.
If you are interested in improving your smile health then it's time you called our Hot Springs, AR, restorative dentist today to schedule your no-risk consultation. Your new smile is waiting!